Stable Host - High Quality Hosting
When it comes to website hosting, it is best to choose a medium-sized company that has a good reputation. Massive web hosting companies often come with poor support and over-sold services that result in poor website uptime or performance (not always, but often).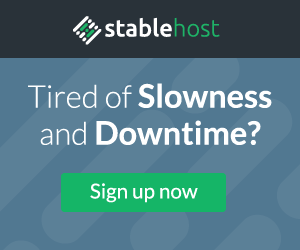 Stable Host is one of those medium-sized hosting firms that offers a great level of service & support with fast servers that are well-maintained and not over-used.
Use Our Coupon Code: thorpweb
for a 40% discount on your first payment!

This means you can get a 40% discount off your
first 1, 2, or even 3 years of website hosting!
$3.95 Package: ideal for most of our clients with small websites.
$5.95 Package: ideal for users with larger mailboxes or Wordpress blogs that require more storage space.
Contact Scott
If you need to reach me for any reason, connect with me on
Facebook
or send me an email at this address:

(to deter spambots, this image is not clickable)